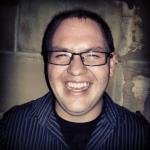 Lightning Labels Prepress & Press Manager Larin Zamora has "been there, done that" and looks forward to doing more of it. In addition to print production, pre-flighting and graphic design background, his well-rounded experience includes positions in sales, production supervision and desktop publishing.
He started with Lightning Labels in 2010 as a Prepress Technician and Press Operator. He advanced to the Prepress Lead position as the company moved forward on automation systems; and worked with the front end of the digital operation. Ultimately, he was promoted to oversee the entire team and press room.
All of this helps Larin work well with his team and customers, understanding and working through challenges involving both. In fact, achieving the goals tied to those challenges and working with employees new and old are the favorite parts of his job.
He notes, "I've worked with many of them since I was originally hired and we've added several people in the past few years. It's been a great experience beefing up our teams to get just the right fit to enhance overall performance and efficiency."
Embracing change vs. being run over by it
New technology, adding automation and reducing waste—both in productivity and the carbon footprint—are a simultaneous challenge, and opportunities. Larin notes, "Adding automation has made our lives easier by removing some of the repetitious work and helping us focus more on quality and reducing waste. Our capabilities have increased significantly as we've added equipment and employees over the past couple of years to maintain our turn times and produce a good product and meet the expectations of our customers."
Crystal ball for the next few years
Larin sees substantive industry advancement over the next 3-5 years in areas ranging from personalization and tracking to ecology. He points out, "I think and hope we are going to see more eco-friendly papers, greater levels of customization in work with variable data labels, augmented reality used in labels and packaging, and more printing converting over to digital."
(In the label world, augmented reality generally refers to use of robust, innovative, small-footprint digital label ID technology that authenticates every package, enhances supply chain tracking and/or improves customer engagement. It has some of the same properties as QR codes and barcodes with the added benefit of providing an individual package ID that can focus messaging to individual buyers as well as prevent counterfeiting and other problems.) It also can be much smaller, depending on the application and need.
In the realm of personal reality, Larin and his wife of 12 years enjoy the company of their dog and two cats. A Colorado native, he enjoys watching hockey, reading and drinking craft beer (some of it, no doubt, brewed by Lightning Labels customers).
Request your FREE instant quote today.