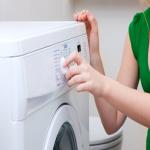 UK Government Partners with Home Appliance Retailer to Test Energy-Efficiency Sticker Labels
British retailer John Lewis is partnering with the the United Kingdom's Department of Energy and Climate Change to place sticker labels on appliances that detail items' lifetime energy costs. The product stickers are part of a pilot program aimed at encouraging consumers to take advantage of the cost savings energy-efficient products can provide.
According to Express & Star, a news source that covers the U.K. Midlands region, Energy Secretary Edward Davey stated swapping an old washer dryer for an energy-efficient one could save households 500 pounds in lifetime energy costs as well as up to 158 pounds on energy bills.
Customized Sticker Labels Aim to Spread Awareness of Financial Benefits of Energy-Saving Appliances In addition to listing the total number of kilowatt hours of energy an item uses, the customized sticker labels will list estimated lifecycle energy costs.
"In the past, people have had no idea how much their appliances will add to their energy bills," Davey said, according to The Guardian. "Now consumers will be able to see clear, simple information on the lifetime electricity costs for appliances like washing machines and tumble dryers."
Davey stated he hopes the initiative will encourage other retailers to begin labeling their products similarly, encouraging consumers to make energy consumption-conscious purchases.