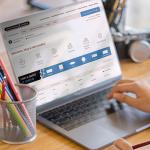 Ordering labels online should be easy, and when your company works with Lightning Labels, it is. To help our customers get the labels they need to keep their businesses running like clockwork, we've redesigned the account dashboard on the Lightning Labels website, giving clients a clear and easy way to place orders, track their orders and more.
The dashboard redesign falls in line with Lightning Labels' overall philosophy of customer service as the central guiding principle of business. Ordering custom labels is simply one of the many tasks that fit into a business owner's busy day, which means it should be as quick and efficient as possible. Lightning Labels customers can log into their redesigned dashboard now and see just how quick the process has become.
What is the Online Dashboard For?
Many of the essential processes of ordering custom labels are handled through the Lightning Labels online dashboard:
Users can create account profiles, saving their information for easy communication in the future.
Customers have access to detailed information on each order they place.
Shipment tracking numbers are visible through the dashboard.
Each account's order history is saved and searchable, allowing quick lookup of past purchases.
Previous order types and quantities can be easily reordered, making restocking simple.
Artwork approval thumbnails may be viewed through the dashboard.
The dashboard also contains a quick link to begin a new order quote process, for when it's time to buy a new type of customized labels instead of repeating an order. The current era of online commerce is based on extreme simplicity and quick responses, and Lightning Labels has infused the essential business process of ordering new labels with this consumer-styled ease and efficiency.
Why Order Custom Labels Online from Lightning Labels?
The new dashboard design is just one addition to a lineup of convenient and customer-focused tools and services offered by Lightning Labels. Since we use all-digital printing processes, there are no expensive or inconvenient plates to work with. This enables a high degree of variation in a single print run and allows customers to order labels in flexible quantities, as their needs dictate.
Ordering labels online is an essential part of keeping a business open and putting products on shelves. When this process becomes quicker and easier, company leaders have more time to devote to their other responsibilities, which enables greater productivity. Lightning Labels' commitment to smooth, customer-friendly offerings in all parts of the label-ordering process delivers this type of effectiveness, and that makes us the obvious choice for businesses of all sizes and in all industries.
Request your FREE instant quote today.