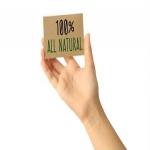 With consumers increasingly looking to eat well and be well, brands wanting to tie into the growing demand for healthy lifestyle choices are reformulating and repackaging to meet the demand. Kraft Heinz, for example, has expanded its environmental strategy, aiming to make 100 percent of its packaging recyclable, reusable or compostable by 2025. Food growers are taking the initiative, too - New Hope Network, which is known for calling out the most innovative, inspirational and integrity-driven products in the natural products industry, said that regenerative agriculture is one of the new trends. It's a system that improves the land and is less harmful to the environment. How does this translate to store shelves? New Hope reported that consumers will be looking for products that are more than just "sustainable," but which also feature attributes like soil rebuilding, biodynamic and biodiversity on their product labels.
Natural and organic foods are trending - do your labels clearly communicate your brand's features?
When it comes to organic food labeling, this new wave of healthy products is producing ripples in that area, too. Eco-friendly labels have become the rage, and there are a variety of ways to do that. Everything from brown kraft labels to see-through BOPP labels are being used these days to communicate the idea of "new," "improved" and "healthy" in the organic food labeling marketplace.
"Clean labeling" practices are also in the news - Supermarket Perimeter said consumers want to see ingredients that are not only good for them, but also easy to understand (and pronounce) listed on food packaging. Even beer makers are getting into the act, adding larger, more readable ingredient and nutritional information to their labels.
To underscore their credentials in the natural department, many companies are adding promotional dietary call-outs to their products. Meats, for example, which once relied on descriptions like "grass fed" and "all natural," are now using numerous other features to drive their point home - "Whole 30," "paleo," "non-GMO," "no nitrates/nitrites," "no added hormones/antibiotics" and others.
One of the most visible label items found across the board on nearly all products in this category, of course, is the organic food labeling logo that signals USDA certification. If the product has met the stringent standards of the USDA, the food distributor would be missing a bet in the marketplace if it didn't prominently display the familiar green-and-white symbol on their bottles, packages or containers. The organic logo has virtually become a must-have in the organic foods field.
To learn more about eco-friendly labeling such as Recycled Kraft Labels, Recycled Vellum Labels, and BioStone Labels and other innovative labeling products, visit the Lightning Labels website.
Request your FREE instant quote today.