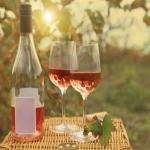 Wine Selection Can Be Tied To Wine Bottle Label Design
When selecting a wine, a shopper has a limited field of visual information to go on. There's a glimpse of the color of the wine itself, the shape of the bottle and, most prominently, the wine labels. Think back to times you've searched for a new wine to try. Was your decision influenced by the wine bottle label? From the color of the imagery to the font chosen to the label's material, each part combines to make a whole. Chances are, experiencing the label in person did feed into the decision you made to bring a particular brand and vintage home.
This points out the importance of vineyards selecting custom wine labels that hang together stylistically and tell a branded story. When it comes down to a direct comparison of wines side by side, customers react to the information presented to them on the packaging.
All the Right Cues
A few particular design elements deserve emphasis when designing custom wine bottle labels. These are the factors that convince customers a particular variety is right for the drinker's palate or suitable for the gathering where it's going to be served. With thousands of wines out there, shoppers try new varieties often so the label has to serve as an introduction. Here are different factors designers can focus on:
• Toughness: Wines that are meant to be enjoyed after significant aging need to have wine bottle labels that are strong enough to look great even after years. Failure to work with materials and techniques specifically meant to be used with wine could lead to labels that peel or fade before the contents of the bottles are ready to be enjoyed.
• Texture: Vintners can use labels to create a tactile connection with the customer. If the label feels and looks great, it will enforce the perception of the brand as classy and perfect for sophisticated dinners. Vineyards that work with woven cloth materials instead of standard paper can stand out from competing brands.
• Imagery: Producers that adorn their bottles with photographs gain a chance to show off their branding in a strong and distinctive way. That said, designers have to be careful. Blurry or badly chosen imagery could create doubt in a consumer's mind or make the brand seem cheap. This is why it's vital to work with an experienced printing partner.
• Uniqueness: When creating a look for a wine brands, it pays to look at what others are doing - and then refuse to chase the trend. Faced with a shelf or similar wine labels, customers may naturally gravitate to a brand that has its own distinct appearance.
Working with Lightning Labels
Vineyards that want to ensure their products are compellingly packaged can work with Lightning Labels to get the look they're after. With a range of materials suited to wine bottles and the ability to print in several different sizes, Lightning Labels makes it easy to enhance a brand's appearance. Furthermore, Lightning Labels is an all-digital printer. The lack of plates in the printing process means that even small orders of custom wine labels are economical and simple.
Request your FREE instant quote today.