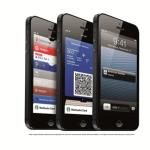 'Intel Inside' Custom Product Stickers Not On Apple Technology
Back in August 2007 during a Q&A, the late Apple CEO Steve Jobs said the company would not place custom product stickers from Intel on Apple products that included Intel technology. Now, years later, Intel is on the decline and is manufacturing chips for mobile devices. Intel refused to provide chip processors for Apple's iPhone and has now become a competitor in the technology.
Digital Product Labels On iPhones May Have Helped Intel The move by Apple to not include the "Intel Inside" digital product labels and the decline of the PC chip business is forcing Intel into a tight financial spot, according to The New York Times. After news broke about Intel's recent boost in chip production for mobile devices, numerous Apple sites said that Intel would currently be better off financially if it had partnered with Apple on the iPhone. However, because the two companies could not agree on a price, Apple has now become Intel's technology competitor.
In a recent interview, former Intel CEO Paul Otellini said that while Apple did not include the "Intel Inside" sticker on Macs, the company should have agreed on a price with Apple on iPhone chip technology.
Request your FREE instant quote today.