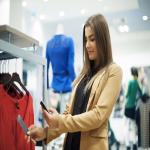 Augmented reality (AR) technology is a type of extended reality (XR) experience based on adding digital content to real-world settings. This means your brand can use AR technology on packaging to give your customers more — more exciting visuals, more interesting information, and more reasons to check out your products.
When people interact with your AR labels, they receive an experience that goes beyond two-dimensional images. You can present three-dimensional pictures or fully animated videos to show off your brand at its best. While this technology impresses users, it's not hard to harness, and is becoming more accessible all the time.
AR Labels: Reach Customers through Their Devices
To access the AR content on a label, a customer needs to have a digital device. Fortunately, just about any smartphone with a camera will suffice. As smart devices have become ubiquitous among consumers, and as developers have crafted AR solutions that work with more of these smartphones, AR's potential audience has steadily grown.
When it comes to reaching more customers though, AR technology must be compatible with mobile web browsers. If users have to download an app before they can access any of a brand's AR content, that's a potential stumbling block for further engagement. Some consumers will simply give up rather than install more software on their phones.
App-free AR experiences just work. When consumers point their device cameras at the QR codes on these AR labels, they're immediately taken to the extra content. That extra material can include videos or images, as well as web links that take customers to a specific part of the company website.
If your brand wants to create a more sophisticated AR experience — for instance, one that will trigger extra content from a part of the augmented reality label design, rather than a QR code — that's when an AR app can come in handy. Such an app can provide a truly immersive branded experience, as if the label's design is coming to life.
AR Labels for Every Brand Identity
Augmented reality labels aren't just suited to one kind of brand messaging. From nostalgic brand stories to exciting modern experiences and beyond, AR materials can convey nearly any type of information or emotion. Real-world demonstrations of successful AR labeling are a case in point for breadth and multi-layered storytelling.
Some of the earliest examples of AR labels came from the world of drinks, both alcoholic and not. A Trendhunter report from the first wave of AR technology gave examples including Absolut vodka's "Absolut Truths" video campaign, a Jose Cuervo experience that tells the brand's history using the bottle as its canvas, and an effort from energy drink Lucozade, featuring British musicians.
Each of those campaigns is meant to suit the brand's identity. Absolut's videos aim to capture interest and imagination, while Jose Cuervo's focus on the company's story – as well as Lucozade's short films – bring star power and endorsements.
More recently, Jones Soda Co launched a bottle label campaign featuring photos and videos of people, Packaging World describes as "extreme athletes and edgy artists." The marketing effort is designed to draw a strong connection between Jones and the countercultural markets it first targeted.
Forbes contributor Jillian Dara added that 19 Crimes, the Australian winemaker that has long been at the forefront of AR labeling, has stepped up its wine label design again. While its standard interactive wine labels snare eyes with historical tales, its new campaign uses a "living wine label" with an AR video of celebrity spokesman Snoop Dogg selling his signature rosé.
Creating High-Quality AR Labels
Whether you're most excited about illustrating your company's history, sharing product information or touting relevant endorsements, your AR labels should look good even if customers don't take advantage of their augmented reality features. A label that seems bland or unappealing to the naked eye can sabotage your efforts to attract consumers — unless the packaging has immediate appeal, shoppers may not bother looking close enough to activate AR.
Your labels should be printed on high-quality materials, with every visual element, from brand imagery to AR-triggering QR codes, appearing in crisp, sharp resolution. Yet AR features are no reason to skimp on any other part of the design, from required ingredient and net weight disclosures to colorful brand logos.
Find Your Ideal Label Printing Partner
Printing high-quality AR labels means teaming up with a company that can deliver both halves of the equation: functional AR features and impressive graphic design. Lightning Labels provides this experience for clients across industries.
Proprietary AR label technology — usable with apps or with app-free QR codes — is available alongside all-digital label printing processes. Lightning Labels has spent over 20 years providing quick turnaround times, flexible order sizes and high-quality imagery for brands like yours.
If your business is ready to enter the world of custom augmented reality labels, request a free quote now.