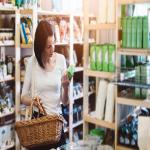 If you walk into a store and see a soda bottle with a red and white label on it, you immediately know it's a Coke. That's because Coca-Cola has worked to use their label to build one of the most recognizable brands in the world.
But effective labeling isn't just about making your product recognizable. It's also about persuading a customer to make a purchase. New research shows that engaging labels have a significant impact on whether a customer chooses a particular product.
Ready to persuade your customers? Here's how to use custom labels to do it.
Make Your Product Stand Out
The average American consumer has an attention span of about 8 to 12 seconds. With all the competing offerings available on the market, it's crucial to use your label to make your product look unique and eye-catching.
People tend to be drawn in by labels featuring bright colors and bold lettering. Bigger labels are also effective because they are easier for a consumer to read quickly. The goal of your label's overall design should be to catch a customer's attention quickly so they will then look at your product in more detail.
Engage the Customer
A stand-out product label alone won't be enough to get a customer to buy your product. To get the customer to convert, your label should also have information on it that will persuade them to make a purchase.
This information should give your prospective customer a reason to buy the product. For instance, you could include specifics about how your product's ingredients set it apart from competitors. Or you could tell a story describing how the product came to be.
This is where you have to consider the profile of your target customer. Is your ideal customer more likely to be swayed by an appeal to their emotions, or to their sense of logic? Considering these factors will help you decide what kind of wording to include on the label.
Enhance Your Shipping Labels
If you have an online business and ship most of your products to customers directly, you may be thinking that labels don't apply to you as much. But labeling is just as important for online retailers as it is for brick and mortar ones.
When you send out a product in the mail, you have a unique opportunity to promote your brand to that customer. Using multiple labels on your packaging is a good way to reinforce your brand.
And it's not just the products themselves you can label. Small businesses that send out their products in a plain cardboard box are missing out on a huge branding moment. Including a label on the packaging will excite customers the minute they pick up their mail and will increase brand recognition.
Get Custom Labels Today
If you're ready to take your product to the next level, custom labels can be the perfect way to build customer interest.
Want to see what a label for your product would look like? We have plenty of options to choose from to help you create the perfect labels for your business.
Request your FREE instant quote today.