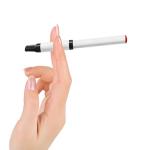 Regulations Keep Shifting
When a product's packaging requirements are codified by law, it's not that challenging to get into compliance - but when those rules keep changing, that can cause problems. It can be tricky to efficiently and affordably package an item when it's subject to shifting requirements: Print too many labels in the old style and they go to waste. Work with a slow printing partner and you'll have to suffer long wait times when you change designs to comply with the latest rules and regulations.
E-cigarettes and other vaping products are great examples of items with changing labeling rules. If you work in this industry, you've doubtless already encountered warnings about the FDA's impending label changes. It's time to get ready for the next generation of vape labels. This is also a great opportunity to sign up with a responsive partner such as Lightning Labels to ensure you'll be ready for any further labeling law changes.
Upcoming Legal Changes
To recap the FDA's recent announcements, the department plans to begin treating vape and e-cig products as tobacco, exerting far more control over these categories than it previously did. This means that, as of 2018, such items will have to contain the same nicotine warnings as traditional cigarettes, provided they contain nicotine. If your products don't have nicotine in them, you'll have to submit a self-certification statement to that effect, along with data to prove it. Even then, there is a "made from tobacco" alert that you'll have to add to your packages.
The 2018 deadline is fast approaching, and means you'll have to carefully regulate your supply of labels. Staying in compliance means never using a label type once it's been phased out, but ending up with unused e-cig labels is a problem as well. This is why it's important to work with a label provider capable of small, efficient print runs. When you don't have to order too many packages of any one design, you'll be able to change with the times, even if you only produce a limited amount of your product each year.
E-cig labels will present a challenge for years to come, as they are a perfect storm of labeling requirements - FDA regulated and relatively untested. While the next announced changes come into effect as 2018 begins, there's no telling what may happen after that. Picking a labeling partner that can help with this next change, and sticking together, could prepare you to face whatever requirements follow and stay unfailingly in compliance.
A Third Party That Can Help
What makes Lightning Labels such an ideal team member to help with your custom vape labels? The all-digital printing process is the key factor. When you order from Lightning Labels, you can buy in small quantities affordably, and receive your batch of labels in days, rather than weeks or months. Working with such an agile partner will help you deal with regulatory changes, or even make shifts for the sole purpose of improving your products' image and branding. In a fast-moving industry, you need quick, efficient allies.
Request your FREE instant quote today.