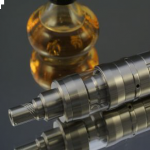 Few places have such a colorful and alluring selection of products as a vape shop. If you look on the shelves of your local vape shop, you'll see countless varieties of e-liquid for customers to choose from. If you want your product to stand out from the pack in such a competitive field, you'll need a label that is guaranteed to catch a customer's eye.
Many brands focus on the purely visual aspects of their labels such as artwork and logo. However, one of the most critical yet overlooked aspects of label design is the material the label is made of.
A high-quality label tells the customer that the product is of equal or greater quality and shows that it was made by people who take pride in what they produce. You may have an artistic masterpiece and logo that puts Coca-Cola® to shame, but a low-quality label will send your potential customer to the next bottle of e-liquid on the shelf.  When your label lacks quality, people assume your product does too.
Label Material 101: Why We Recommend BOPP for Your Custom Vape Labels
When it comes to label material you have options. Visit our label material page and you'll see a multitude of materials ranging from Bio-stone to Satin Cloth. Be that as it may if you want a quality label, which is to say that you want a custom label that attracts customers and shows the world that you have a quality product, your choice of materials is clear, BOPP. Biaxially Oriented Polypropylene or BOPP is far and away the most popular material for custom vape labels, blowing all competing materials out of the water in terms of popularity, durability, and quality.
The reason why BOPP is on top is because of the unique properties that make it ideal not just for labels in general but for vape labels in particular. BOPP is water and oil resistant and thus is unlikely to be damaged by e-liquid spills or constant handling. BOPP is also incredibly resilient and long-lasting, ensuring that your label will stay on the bottle.
When it comes to colors and laminates for your custom vape labels, chrome or white BOPP labels with matte laminate is the way to go. While white BOPP labels are far and away from the most popular choice due to their versatility, chrome is great for those who want a more mirror-like label. Matte laminate will give your label a more natural look that may appeal to customers.
You know that your e-liquid is a quality product. Showcase that quality to your customers by using BOPP custom vape labels from Lightning Labels®.
Request your FREE instant quote today.