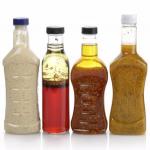 Your bottled food and beverage products need to stand out visually to encourage customers to place them in their carts. This means you can't skimp on bottle label design. Showing off brand personality and voice with your label design is a direct way to reach shoppers in stores. No matter how small your company is, your items stand a fighting chance to be noticed when they look great.
Crafting a perfect bottle label for your sauce, beverage or any bottled product is an involved process that goes beyond simply picking a good-looking image. It's never a bad time to determine whether your labels are living up to their potential and start working on an update.
Bottle Label Design Factors to Consider
When you search for inspiration from sources such as 99 Designs' list of interesting barbeque sauce labels, you'll notice the variety present in every category of packaging. From material selection and label shape to the type of imagery used, successful brands have thought through the specifics of their visual identities. While working on this design process for yourself, you should think about the following variables:
Brand imagery: While graphic design isn't everything in labeling, you can't ignore it. Peruse a Gear Patrol list of top hot sauce labels and you'll see an amazing variety of visual styles. While some brands are designed to fit alongside classic Southwestern sauces, others employ flashy fantasy imagery or evocative landscapes. Everything from color palette to font to the photos or art on your bottle labels is up to you and should form a cohesive impression of what your brand makes and stands for.
Bottle label size and shape: You don't have to cover your whole bottle with a label. Labels with permanent adhesives can be die-cut into any shape and applied directly to your products' bottles. This allows you to cut the label to the size and shape of your product logo and give more space for the natural color of the bottle — or the product within. You can also opt for a clear label, with some sections printed on and others left transparent.
Label material: Your label may look incomplete if there is a mismatch between its material and visual aesthetic. For example, if you are marketing a barbeque sauce variety with an old-fashioned Western look, a rough paper material could be a much better and more natural complement to the design than a slick polymer. Water bottles and bath and body labels also come with extra requirements, with water resistant and oil resistant materials needed to keep the packaging looking good.
Some of the more specialized design cases, such as beer labels and wine labels, have their own norms and traditions. Whether you're creating a colorful, distinct package to attract beer buyers' eyes or crafting a subtle, vintage-styled wine label, you can either play into tradition or intentionally subvert it to make your brand more memorable.
Finding the Right Printing Partner for Bottle Labels
One element that can make or break the success of your bottle labels is the quality of the finished items. When you work with an expert partner such as Lightning Labels, you gain access to reliable printing processes overseen by an experienced partner. Offering a large selection of label materials and finishing treatments to suit any taste, Lightning Labels also provides highly customizable die cutting to ensure your labels fit perfectly on your product bottles.
Fast turnaround times and flexible order sizes, both enabled by Lightning Labels' use of all-digital printing methods, allow you to launch the exact product packaging strategy you're envisioning on a scale and schedule of your choice. There's nothing stopping you from redesigning your bottle labels today.
Request your FREE instant quote today.