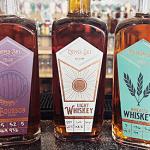 When designing product labels, it's tempting to just think in terms of imagery, text and texture. But there's an extra way to add some shine to your packaging strategy — literally.
Hot foil stamping is a process that imprints real foil into your custom labels, giving them metallic accents in a variety of shades. When dealing with fast-moving retail scenarios, where it's hard for any product to stand out, a gleaming foil label accent can catch customers' eyes.
Using Hot Stamp Labels to Elevate Your Products' Appearance
Hot stamp labels give items a premium feeling. The shiny, metallic look tells customers they're getting a high-quality item, one that has been created with care. This is especially useful when your offerings are compared side-by-side with competitors' items that lack these features.
One of the most exciting elements of custom label hot stamping is that the process fits into so many label designs: By employing a copper foil, you can give a refined, matte label an extra sense of drama. Gold foil makes a slick, polymer label feel more exclusive and impressive. Silver lacing adds elegance to an eggshell label.
Provided you work with a custom label partner that offers many different label materials and foil treatments, the combinations possible are nearly limitless. Your brand logos and imagery can stand out more than ever before, highlighted by the hot-stamped foil label accents.
Top users of hot stamped labels and hot foil stamping include vineyards and wine producers, distilleries and other spirits providers, and candle manufacturers. Any type of business can use hot stamp labels, however. Considering that hit stamping works with numerous types of paper and polymer, the process can accent many kinds of packages.
The Hot Stamp Label Production Process: What Goes into It?
The true hot stamping label production process involves, as the name implies, an application of heat during label production. Through heating and pressing the labels, the stamping equipment adds real metal to the finished custom labels.
Instead of simply imitating metal, these labels have the real thing. This will help them show off the premium nature of a product — if customers hold up two products side by side, they may be able to tell true hot stamped labels from items made with less involved processes.
Hot stamped label production combines the foil accents with high-quality design work, showing off your brand's logos and text. You can choose to adapt an existing template to suit the hot stamping process, or design a whole new graphic design to make sure your products' new look maximizes the effectiveness of the foil.
There's another foil label option you can consider in combination with hot stamping: embossing. Embossed labels have a raised texture, which makes design elements pop, whether customers are viewing the products or touching them. The mixture of hot stamping and embossing creates a truly premium experience, one that shows your brand cares about creating good-looking items.
Finding the Best Hot Stamp Label Provider
Why work with Lightning Labels as your hot stamp printing provider and overall label printer? Through nearly two decades helping companies get the product packaging they need, Lightning Labels has strengthened its reputation as a customer-friendly label provider, one that can work in tandem with large or small businesses to label any kind of products.
Hot stamp labels purchased through Lightning Labels combine a variety of premium foil label features with the responsive customer service, impressive flexibility and short turnaround times customers have come to expect.
Lightning Labels offers over 50 varieties of metallic foil imprints, a full selection of label materials, four-color printing, optional embossing and quick turnaround times between 6 and 7 days after proof approval.
By combining the full spectrum of label materials and finishing treatments with the variety of foil imprints available, you can create a custom look that perfectly expresses your brand's unique personality through foil stamping.
When deciding whether to switch to hot stamp labels, consider the moment when a customer picks up your product in a store. What will the item look like, compared to competitors' options? How will it feel? Will it seem like a high-quality, premium option? The hot stamping process can showcase your goods at their best.
Request your FREE instant quote today.