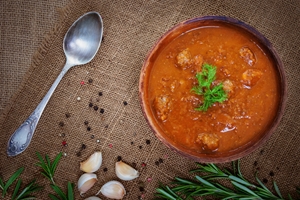 Soup Maker Announces Full Disclosure of Genetically Engineered Ingredients Over the past year, there has been a lot of controversy surrounding the mandatory labeling of genetically modified ingredients on food products. Many major companies in the industry have aggressively fought against United States legislation amending regulatory requirements to include GMO ingredients. Some have argued it would lead to increased costs that are unnecessary and others have suggested it should be governed by state laws.
However, Campbell Soup Co. recently took a step in the opposite direction.
This week, the food manufacturer announced it will begin disclosing the use of any and all genetically engineered ingredients on all its product labels, a process that could take anywhere between a year and a year and a half to thoroughly implement.
Of course, this could be a risky move for the corporation, parent company of well-known brands such as Pepperidge Farm and Prego.
Campbell President and CEO Denise Morrison revealed to The New York Times that about 75 percent of the company's products contain some derivatives of soybeans, corn, sugar beets and/or soy which are four of the most prevalent GMOs.
Without a doubt, the consumer demand for transparent labeling practices is on the rise. Morrison herself noted to the source that nearly all Americans are in favor of GMO labels.
Product Labels Continue to Draw Industry Debate The long-term effect this change could have on Campbell's sales is still unclear. On one hand, shoppers could notice the food was made with materials sourced from genetically modified organisms and choose to not purchase it. But it is also possible that being honest and upfront could work in the company's favor.
Campbell explained in its statement that it "continues to recognize that GMOs are safe, as the science indicates that foods derived from crops grown using genetically modified seeds are not nutritionally different from other foods."
Some major food brands have taken significant measures against federal government enforcing a national standard for GMO labeling, arguing that it would be a costly and complicated process.
But the existing state-by-state patchwork approach to product labels is problematic.
Morrison highlighted an example of this to the New York Times. In 2014, Vermont became the first state to enforce mandatory labeling of genetically modified ingredients on products governed by the Food and Drug Administration. Therefore, Morrison said, in this state, a can of Campbell's SpaghettiOs would be packaged with a label disclosing it contains genetically engineered items.
However, a can of SpaghettiOs containing meatballs would not require such a label because the product falls under jurisdiction of the Department of Agriculture. This, she argued, is why the federal government needs to set a national uniform system.
Campbell Adamantly Advocating National Uniform Standard for Labeling The world's largest soup manufacturer also said it plans to disassociate itself from any organization against the mandatory labeling laws.
This is not the first time Campbell has taken initiative on the matter.
According to Reuters, last year the company said that all monosodium glutamate, or MSG, would be removed from its children's condensed soups and that only domestic, non-GMO and organically-sourced ingredients would be used for the line. In addition, by July 2018, there would no longer be any traces of artificial coloring or flavoring added to products in North America.
Campbell indicated that if a federal solution is not reached relatively soon, it is "prepared to label all of its U.S. products for the presence of ingredients that were derived from GMOs, not just those required by pending legislation in Vermont. The company would seek guidance from the FDA and approval by USDA."
Request your FREE instant quote today.