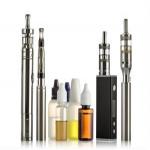 Sometimes the available real estate on vape product labels isn't enough to accomplish everything needed. There are marketing considerations, like descriptive text, attention-getting graphics and even promotional add-ons. And then there is the regulatory information required by state or local legislation. How do you fit it all in?
The simple solution is using extended content labels, which can actually double the amount of space you have to work with. Extended content labels or ECLs, are a creative packaging trend that many marketers are taking advantage of.
Advantages Of Extended Content Vape Labels
If you stick to the basics for the information on the front part of the label, you can then employ the extended content label for anything else that's important in telling your story. That includes instant savings coupons, instructions, warnings, company history, messages in other languages, text to satisfy regulatory requirements or even QR codes that connect the buyer to websites and videos.
This new space can be a larger canvas for package designers to work with. Imagine the many possibilities: miniature catalogs, contests and more can all be tucked away beneath labels. Plus, the interactive nature encourages shoppers to get involved, peeking inside to learn more about your vape product. That gives you an edge over others on the shelf.
Types Of Extended Content Labels
There are two basic varieties: wrap-around style and extended content coupon or hinge style.
Wrap-around Extended Content Labels: This is the simplest, most common approach to extended content labels. A wrap-around extended content label is one that wraps over itself and is produced using removable BOPP label stock. The label adhesive is engineered to be repositionable, allowing for easy removal and replacement as many times as you wish. The label is usually a rectangle, oversized on one side, which wraps around the product container 1.5 to 2 times. The shopper simply removes the label to reveal the content underneath.
Extended content coupon or hinge: Adding a coupon to the package can help spur impulse buys, giving customers an incentive to choose your product over others. The coupon doesn't need to occupy exterior label space; simply incorporate an attention-getting graphic on the front, telling shoppers to peel the label back. The hinge style is similar, but in this case the top label is not detached. One side is permanently attached to the bottom layer, not intended to be removed. The hinge style is ideal when you want company branding on the top layer and more lengthy product or promotional information underneath.
If you're getting your product ready for market, it's a good idea to consult a supplier like Lightning Labels, which has experience with the kind of vape label printing that delivers results in a competitive environment.
Request your FREE instant quote today.