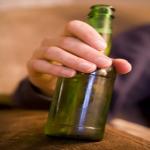 Swedish Custom Beer Bottle Labels Produce Outrage
A brewer in Sweden is being cited by a state-run liquor retailer for not following proper etiquette for custom beer bottle labels. According to The Local, an English-language Swedish news source, the stickers in question depict a female on a seven-part "Sinner Series" of beer. The bottle label representing lust has a cartoon image of a woman in a suggestive pose.
Lennart Agén, spokesperson for Systembolaget, the liquor retailer involved in the case, told The Local that the drawing is illegal in Sweden.
"We can't accept the label, it's against Sweden's alcohol laws," Agén said. "It's quite a sexual label."
Beer Labels Might be Blacked Out
The brewer said it was a difficult process coming up with the beer labels. Amager Bryghus, the Danish brewer, said it may simply black out the labels, as Systembolaget has requested the company remove or edit the image. Blacking out the labels would also result in the background being blacked out as well, leading to an entirely black label.
For Henrik Papsø, head of communications at Amager Bryghus, the image was the result of the brewery trying to be funny.
"We were trying for a bit of humor with the text, but they wouldn't let me get away with it," he said.
Request your FREE instant quote today.