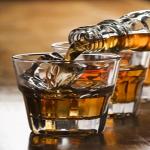 Tennessee Whiskey-Makers May Have to Change Custom Beverage Labels A year-old law is preventing certain whiskey-makers from referring to their product as Tennessee whiskey on custom beverage labels. Unless companies use a specific recipe that includes 51 percent corn, and the product is aged in previously unused, charred oak barrels, they aren't legally allowed to print labels that indicate they make Tennessee Whiskey, reported The Wall Street Journal. The law was initiated by Brown-Forman Corp., creators of Jack Daniel's, the top-selling U.S.-made whiskey. However, state representatives in a House committee are looking to revise the law to be slightly less strict.
Some Distilleries Are Having Problems With Custom Printed Beverage Labels Small distilleries that want to maintain the designation of Tennessee whiskey on custom printed beverage labels may have trouble keeping up with the requirements. While the law will remain in place, representatives are hoping to make it easier for companies to compete. For instance, they hope to allow whiskey makers to re-use barrels rather than buying new ones, The Associated Press reported. New barrels can cost up to $600 each, adding a considerable expense for some companies.
Request your FREE instant quote today.