Use Hot Sauce Labeling Design Tips to Aim Products at Consumer Groups
[caption id="attachment_8352" align="alignleft" width="300"]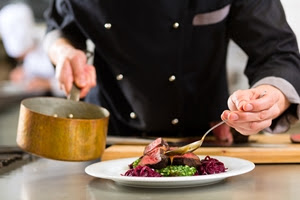 You can target gourmets or casual eaters by considering hot sauce labeling design tips.[/caption]
Different hot sauce labeling design tips may appeal to varied sections of the market. Marketers may be able to tap into recent food trends to come up with ideas for printable food labels. For instance, consumers that consider themselves "foodies" are on the rise. Some of these individuals like to cook gourmet meals for themselves, others enjoy dining out at the hottest new spot and trying new places frequently. On the one hand, many of the most popular restaurants are beginning to incorporate street food into their menus by adding ingredients you may not usually find in these homegrown favorites.
This means hot sauce may well be capable of transcending the gap between the casual food consumer and self-proclaimed foodie. Feel free to be open and creative when designing hot sauce labels.
Consider Targeted Markets for Hot Sauce Labeling
Think about different targeted markets for hot sauce labeling. Is your product "haute sauce" or "hot sauce?" That is, who's buying your condiments - foodies, more general consumers or a little bit of both? While you may be able to aim your product somewhere between these groups, other brands may want to pick a side. Are foodies your main customers, or do broke college kids pick up your delicious hot sauce to make their bland dorm food more palatable? Depending which version sounds like your typical shopper, you may want to emphasize different aspects of the label. For college students and others looking to spice up a boring meal, the price point may be the best seller. For Epicureans, you may want to focus on unique ingredients and flavor profiles, as well as the best cuisine to accompany the sauce.
Smart Hot Sauce Label Marketing Can Grow Sales
Hot sauce label marketing is the best way to increase visibility with consumers. Once you've identified what kind of shopper you're targeting specifically, it will become a lot easier to design fun labels that are really appealing. For instance, a big part of foodie culture is social - not just the experience of dining, but sharing it via social media. Is your label design Instagram photo- or Facebook status-worthy? Make sure you indicate on the label if your company has a social media presence. It may even be smart to encourage people to use a specific hashtag when posting about your sauces. An attractive and interesting hot sauce label will sell itself, but don't forget to include the important information, like ingredients and branding.
Request your FREE instant quote today.