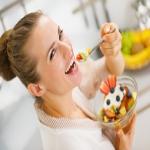 Harmon's Grocery Store Introduces Dietitians Choice Logo On Custom Food Labels A Utah-based grocery store created its own custom food labels to help consumers make healthy choices. Reading nutrition labels can often be difficult and time-consuming. The Dietitians Choice designation calls attention to items that are more nutritious, according to the Harmon's Grocery website. The guidelines are based on criteria determined by Harmon's dietitians, and are based on the U.S. Department of Agriculture Dietary Guidelines for Americans 2010, which is the most recent data available. Creating the guidelines for the printed labels took the dieticians more than a year, according to local news source The Salt Lake Tribune.
The Healthy Food Label Printing Initiative Will Educate Consumers Harmon's food label printing project will help shoppers more quickly ascertain which items are a smart and nutritious buy. Their system labels products that use more fruits, vegetables and whole grains and include less saturated fat, sodium and added sugar. Products must also avoid artificial sweeteners, high-fructose corn syrup and hydrogenated oils. Harmon's system differs slightly from some other similar guidelines. For instance, products that earn a check mark from the American Heart Association don't necessarily earn The Dieticians Choice. The real aim behind the labels is to cut through packaging claims to highlight real nutritional value.
Request your FREE instant quote today.