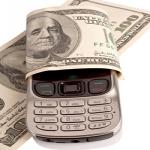 Citibank Introduces Custom Stickers In Euro Nation
First it was plastic, and now it's custom stickers. Forget cash and coins, people all over the planet are paying with alternative methods made possible by new advances in technology. Now, consumers can simply use their smartphones and bank-issued stickers for contactless payments.
Include Czechs among those who can now use stickers to pay for goods and services. Domestic consumer can use the stickers for ordinary purchases at point of service (POS) terminals now that Citibank will begin issuing free stickers for consumers that sign up for one of the bank's new credit cards being offered in the country.
Sticker Labels Placed On Phones Citi said sticker labels will be sent to consumers who obtain any one of five qualifying new credit cards offered by the bank. Stickers can be placed on the back of a mobile phone or key fob to facilitate an easier and more enjoyable purchasing experience.
"Payments using contactless stickers are faster, more convenient and are secure as well," said Milan Reznícek, Citibank credit card product manager. "They can be used at any of the rapidly increasing contactless payment terminals available in the Czech Republic."
Request your FREE instant quote today.