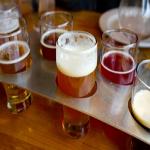 The overwhelming majority of news stories related to food and commodity labeling practices have been firmly focused on clear, accurate and responsible information sharing to the consumer marketplace, and for good reason as regulators work to boost safety across industries. However, that is only one of the many aspects that need to be covered when developing a label strategy for products of any kind, as they also need to pop a bit and catch the eyes of target markets.
Punchy, colorful and brand-consistent imagery can goes a long way toward boosting the speed with which items leave the shelves, and virtually any company that sells consumer products needs to ensure that its labels are getting the job done in this regard. One of the best places to look for guidance related to label best practices is craft brewing, where smaller entities have to go above and beyond the call of duty to ensure their products can perform alongside those from major manufacturers.
Artistic labels The Tampa Bay Times recently explained some of the ways in which brewers in southern Florida are working to make their bottles a bit more eye-catching than competitors', affirming that artwork has been at the forefront of these strategies. Because of how small so many of these microbrewers' operations are, the source pointed out that leaders will often look to their employees for insights and assistance in the development of labels for various bottles.
This is almost always going to be a strong approach, regardless of industry, as operations staff and other ground-level employees will know the brand and the target market's preferences as well as anyone else in the business. According to the news provider, one brewer has gone so far as to attribute some of its products' success in the marketplace to the engaging and unique label artwork included on the bottles themselves.
All about execution Regardless of how much work a firm puts into the design and development of labels, it will need a professional service provider to ensure that the initial efforts yield positive results down the road. When using a high-quality label service provider that can turn around orders quickly and maintain accurate adherence to initial designs, businesses in virtually any industry can begin to better position their products and services for stronger sales.
Request your FREE instant quote today.