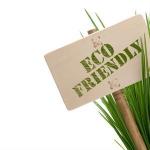 Another Earth Day has come and gone, but if your company counts responsible, green practices among its core values, this focus never really ends. Finding ways to protect the planet year-round may involve selecting environmentally friendly materials for your products. When you're engaging in this process of targeted improvement, you shouldn't ignore items' packaging. A totally recycled item covered in labels made of petrochemicals sends mixed messages about your organization's commitment to sustainability.
Going the green route with your packaging doesn't mean getting locked into one aesthetic. Eco-friendly label materials take several forms, and you can make sure your selection promotes a specific and appealing image. If it's been too long since you last revised your offerings' appearance, the branding may not be living up to its true potential. The following are just a few of the environment-friendly materials available.
Earthfirst PLA
While some brands may be interested in adopting a natural look for Earth-friendly labels, your company may want to stick with the kind of neutral look enabled by standard polymers. The middle ground between these needs comes in the form of Earthfirst Polylactic Acid. This biopolymer is made from corn derivatives, meaning the labels are manufactured without the need for petrochemicals.
Flexibility is the name of the game for Earthfirst PLA, and the labels are suitable for most of the same roles inhabited by standard materials. The freedom to make your company's products look however you want is valuable and can help you either maintain classic branding or create a bold new style.
Kraft and Vellum Recycled Labels
When you're looking for an option that is truly green, Kraft and Vellum labels are excellent non-laminated materials. The lack of lamination isn't a hindrance if you want your products to have an earthy, tactile character to them. Furthermore, both of these substances are made from 100 percent post-consumer content.
Today's shoppers have a great deal of choice when it comes to the items they buy, with new brands springing up all the time. Employing entirely recycled labels gives your company a compelling selling point. If your items are made largely of recycled materials, carrying that consideration over to the packaging is a great move from a promotional perspective.
More Options
Earth-friendly product materials make up an ever-expanding category and can show audiences that the brands they buy from have strong, ingrained senses of priorities and values. From the components of your goods to the labels that adorn them, you can convert every part of your offerings to embrace a green mindset.
Request your FREE instant quote today.