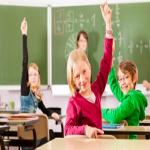 Get Ahead on Back-to-School Marketing with Custom Labels and Stickers
Denver, CO, (July 10, 2013) - Lightning Labels, custom label and sticker printing leader, is encouraging manufacturers across the country to prepare effectively for the upcoming academic year by upgrading their products with custom labels and stickers.
While the final bell of the school year may have just sent students off on summer vacation for a couple months, it's not too early to start planning for fall. Seasons fly by quickly and before students know it, they'll be picking out new products to start the new term off right. Manufacturers still have time to plan their back-to-school marketing campaigns, but they shouldn't put off revamping their product offerings with custom stickers and labels.
"The summer months are a great time to rehash old strategies and redesign product packaging that will harness the attention of shoppers come August," said AnneMarie Campbell, Business Development Manager at Lightning Labels. "School supply businesses aren't the only ones that can capitalize on the sales spike that occurs at the end of summer when students and parents get ready for the year ahead. Lightning Labels' custom stickers and labels can help manufacturers across industries give their products a special flare to celebrate the back-to-school season and catch the attention of consumers."
Digitally Printed Labels and Stickers are a Wise Investment for Organizations of All Types Consumer brands aren't the only ones that can benefit from custom printed labels and stickers when summer ends. Schools, athletic leagues, student clubs and associations can prepare for the start of the academic year by creating high-quality, unique custom labels and stickers.
What's a better way to boost awareness and support for a school group, sports team or organization than with customized stickers? Whether these organizations want thousands of stickers or just a handful of diverse labels with different designs, Lightning Labels offers affordable rates and can carry out customized sticker orders in just a few days.
Product Stickers Can Boost Branding When Classes Resume Product stickers with school or association logos are a great way to improve an organization's image and increase its awareness during back-to-school season. Meanwhile, brands can design fun stickers for school supplies, such as notebooks and calculators, to jumpstart their branding. Lightning Labels offers a variety of colors to choose from and can guarantee users like their design before committing by offering free proofing.
Summer may have just arrived, but it's not too early to get ahead on the back-to-school shopping rush. Design custom stickers and labels today!
Lightning Labels is offering 15 percent off new orders placed online through July 12, 2013. Use promo code JULY4 at checkout.  The maximum discount is $1,000. Free ground shipping applies to regularly priced orders shipped only within the United States and Canada. This offer cannot be combined with any other offers or promotion. Visit LightningLabels.com online for details.
Request your FREE instant quote today.