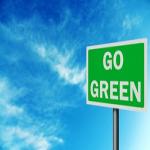 Custom Color Labels Could Reduce Greenhouse Emissions
What if there was a way for custom color labels to remind consumers to turn off equipment after use? According to Environmental Leader, a sustainability news site, one company is encouraging the use of color-coded stickers on equipment that uses high levels of energy to reduce greenhouse gas emissions.
Sustainability Dashboard is a company that creates tools for organizations to boost their energy efficiency. The company seeks cost-effective techniques that businesses can adopt to reduce their carbon footprints, and color-coded stickers are part of the company's initiative toward a greener environment.
Color-Coded Product Stickers May Drive Energy Conservation  Environmental Leader reports product stickers of various colors could be a daily reminder for the last person who uses the equipment to turn it off. Sustainability Dashboard suggests companies develop a color-coding system that rates energy use or when certain equipment could stay on during the week but not on weekends. There are multiple ways companies could create such a system, but Stephen Ashkin, CEO for Sustainability Dashboard, recommends using only a couple colors to prevent any confusion.
Request your FREE instant quote today.