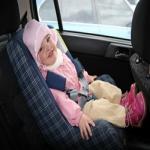 Car Window Stickers May Prevent Child Fatalities
A recent campaign in Israel hopes car window stickers will remind parents not to forget about their child in the backseat. According to The Jerusalem Post, Health Minister Yael German launched a new initiative to provide vehicle stickers in multiple languages at gas stations, health clinics and vehicle licensing organizations.
The campaign comes out of recent tragedies in Israel in which parents became distracted and neglected to remove their child from the vehicle, leaving the child alone in the heat. According to Safe Kids Worldwide, children have an increased risk of heatstroke because their smaller body heats up five times faster than an adult's. Reminders, such as car window stickers, have been found to be an effective measure to remind parents or guardians not to forget children in the backseat, as they may be asleep or unable to remind the adult they are in the backseat.
Custom Car Stickers Available while Officials Consider Proposal
The Jerusalem Post reported the custom car stickers will not be mandatory for all drivers, but German said she was considering creating a regulation that would require parents display the decal on car windows.
Request your FREE instant quote today.