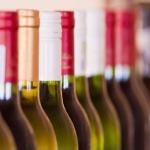 Glass bottles add a level of sophistication to your goods plastic packaging may be unable to match. To finish creating the perfect visual presentation for your items, it pays to pair impactful labels for your glass bottles. This does not just mean practicing good graphic design skills, though that is an important part of the process. You should also choose a label material that will match your overall brand concept.
Labels for Glass Bottles: Product by Product
The labels you pick for your glass bottles should fit with the rest of your brand imagery and presentation, while also taking on unique characteristics that suit the product contained within. The following are a few of the most common uses for bottles, along with label material and design suggestions to help you get started creating ideal packaging.
Wine bottles: Wine bottle labels are great canvases for your design sensibilities. You may choose a paper-label material, such as Estate #9, for your wine, but be aware that some options do not support laminated finishes. If you are marketing a white wine, which may be chilled in ice, it could be a better fit to go with materials compatible with waterproof finishes.
Beer bottles: Glass beer bottle labels are renowned for the creativity that goes into their designs. You should take equal care when selecting labels with strong adhesives and waterproof characteristics. Whether you choose a paper or a polymer material is down to your aesthetic preferences and brand identity. You can use a matte finish to give the finished design an elegant, modern look and tactile appeal in customers' hands.
Cosmetic bottles and jars: BOPP materials, backed with strong adhesives and finished with glossy water-resistant lamination, are ideal for cosmetic bottles. These items will have to be able to last for months in buyers' bathrooms. Water and oil resistance are key characteristics because the labels should still look good even if they are exposed to the products contained within the jars.
Water bottles: While the plastic water bottle is an industry-standard at this point, you may prefer glass water bottle labels which are used when selling upscale water varieties or related products such as seltzer. Waterproof labels would be important in these cases. As with glass beer bottle labels, these containers will experience condensation.
Finding an Ideal Labeling Partner
When you work with an expert label printing partner such as Lightning Labels, you gain access to the high-quality label materials that can make your glass bottles look great on store shelves, no matter what type of product you're selling. Lighting Labels has worked with companies across industries and delivers a fast and flexible label ordering experience-based enabled by all-digital printing. Labels are available to fit your exact design specifications, die-cut into a near-unlimited combination of sizes and shapes.
When you begin designing glass bottle labels or redesigning to create a new brand identity, you can entrust the physical printing to Lightning Labels, ensuring that the quality of the finished products matches your objectives. No matter how many or few labels you need, they are available at a price and speed that will meet your needs
Request your FREE instant quote today.