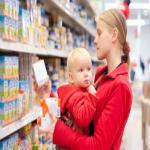 There are numerous kinds of warning labels and safety labels, and it's always worth checking that your company is using the right types. If you produce consumer goods of any type, labeling your products to ensure customers use them safely and correctly is one of the most important requirements facing your company. You may also have potential hazards around your building that call for safety stickers and labels. Getting the label and sticker creation process right will help you avoid fines and other penalties.
Some Common Kinds of Safety Labels and Warning Labels
While there are countless kinds of warnings and safety notifications required on products and in workplaces today, the following are some of the most commonly encountered versions. Verifying that you are following the applicable rules for these labels is an important early step for your business, as good labeling practices can deliver both regulatory compliance and customer trust.
Child safety labels: Products made for children are especially tightly regulated when considering safe usage directions, hazard warnings and more. This applies to both items that families use, such as car seats, and toys the kids play with themselves. As an example of these regulations, the Child Safety Protection Act contains numerous specifications around choking hazard labels, specifying the text and pictograms that should appear on toy packaging.
Alcohol warning labels: When you're creating label designs for alcoholic beverages, the exact requirements will differ depending on whether you're labeling wine, beer and other malt beverages or spirits, as determined by the Alcohol and Tobacco Tax and Trade Bureau. It's important to ensure you have the correct warnings in place before designing the creative visual element of the labels.
Prop 65 warning labels: California's Proposition 65 lays out one of the most comprehensive product safety labeling rule sets. Since it's unusual for items to be sold in some states but not others, it's likely you'll have to address Prop 65 labeling requirements to market your goods in the U.S.
Cannabis product warning labels: Due to the fact that medical and recreational cannabis products are regulated at the state rather than federal level, cannabis labels are some of the most varied regarding warnings and safety notifications. Getting in line with your region's requirements is key to success in this heavily legislated space.
Safety stickers: Labels on products aren't the only places where safety warnings are necessary. For example, if there are potentially hazardous chemicals used in the workplace, you will have to use hazard communication labels as defined by the Occupational Safety and Health Administration Hazard Communication Standard. Other accident risks that could cause injury or death may also require labeling.
There are more warning label types than these, some voluntary and some mandatory, and all worth investigating to ensure you company is a leader in safety.
The Value of Having a Versatile Safety Label Partner
No matter what kind or kinds of safety labels your business needs, it pays to work with an expert label printing partner. Lightning Labels uses all-digital printing methods to produce any amount of labels with quick turnaround times. Whether your priority is warning labels for your products, safety stickers for a facility or anything in between, Lightning Labels offers a wide variety of sizes, shapes materials and finishes to meet your needs.
Request your FREE instant quote today.