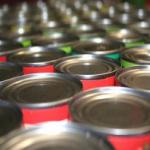 Designing the perfect custom labels for your products is an important part of either launching a new item or refreshing your brand in the eyes of consumers.
While a great deal of the creation process will involve graphic design considerations, you shouldn't underestimate the importance of picking a product label material. This is one of a number of decisions you'll make on the path to finalizing your design, along with whether your quantity of products is better suited to sheet labels or roll labels, and which finish treatment and adhesive to use.
What Product Label Materials Are Available, and What's the Difference?
When you work with a custom label provider, you have a few categories material to choose from. Each brings its own combination of characteristics, and is worth considering:
• Polypropylene synthetic label materials: When you want versatility and durability coupled with a sleek, modern look, you can select this type of polymer. By choosing a white BOPP, chrome BOPP or clear BOPP, each a version of the standard polypropylene material, you can craft a visual identity that will suit a wide variety of brand needs.
• Paper label stocks: For a rough, earthy feel that's right at home on a wine label, a liquor bottle label or organic food packaging, a paper label material is hard to beat. There's more than one kind of paper substrate available, so you can experiment with textures and appearances.
• Weatherproof options: For products that have to stand up to the outdoors, flexible vinyl labels are a natural choice. This durable category also includes squeezable film that will keep looking great even when a container is handled often.
• Removable adhesive variations: Not every label has to come with the strongest possible permanent adhesive. If your products are meant to have their labels taken off once customers get them home, you can select a label material to match.
• Eco-friendly alternatives: Some paper labels are environmentally positive options, consisting of high percentages of post-consumer recycled material. You can also opt for labels made from substrates such as biostone, which is made with no paper whatsoever.
What Are the Top Considerations for Product Label Materials?
Your label material should be shaped by a few important details about your product, branding and overall strategy.
• Label toughness: Where will your products be used, and what kinds of conditions will their labels have to survive? For situations where only waterproof labels will suffice, for instance, it's essential to make the right combination of tough material and effective laminated finish.
• Environmental friendliness: If your customers are very green-conscious in their buying habits, then choosing either a recycled material or one that doesn't use trees can be a great decision to uphold the brand.
• Brand consistency: Whichever material you pick, it should allow you to express your company's design ambitions with logos, colors and imagery in line with the rest of your promotional offerings.
How Can An Expert Label Printing Label Partner Help?
Working with Lightning Labels as your custom label printing partner gives you access to a wide variety of label material options, from numerous polypropylene variations to recycled paper, offerings designed for wine bottles, removable adhesive labels, thermal transfer labels and much more. You also have your choice of polyester and polypropylene laminates to give your products the toughness and tactile appeal they need. Your next labeling project will find its perfect materials among Lightning Labels' offerings.
Request your FREE instant quote today.