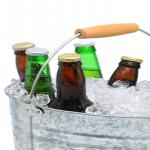 Alcoholic Beverage Companies Can Now Put Nutritional Information on Custom Beer Labels  In the spring of 2013, the U.S. Treasury's Alcohol and Tobacco Tax and Trade Bureau approved an initiative that will allow alcoholic drink producers to put nutrition data on wine and custom beer labels. This is the first time labels of this kind have been approved for wine, beer and spirits, New York Daily News reported. However, the nutrition content on print beer labels will still be voluntary. Consumer groups and liquor companies both lobbied for the change. Shoppers wanted more transparent information, while beverage companies wanted to use low calories and carbs as a selling point.
Miller64 Implements Nutrition Data on Custom Beer Bottle Labels While the new rules have been in place for several months, Miller will be the first business to include voluntary nutrition information on custom beer bottle labels. A recent press release from the company stated they are proud to be the first U.S. beer that will feature more detailed information on bottles. The company can now use the beer's low-calorie content to gain an edge on competitors. The new rules will help consumers make more informed decisions about which drinks to consume.
Request your FREE instant quote today.