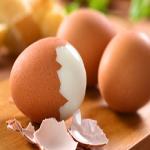 Lawsuit Filed Asking for More Regulation on Food Sticker Labels
Food sticker labels placed on eggs have come under fire recently. A group of animal rights activists including the Animal Legal Defense Fund (ALDF) have filed a lawsuit against U.S. regulators in order to improve what they allege are insufficient food labels for eggs.
The suit, filed in the U.S. District Court in Northern California, claims the current labeling system does not accurately reflect the conditions animals are raised in and falsely leads consumers to believe the animals are treated better than they actually are. Labeling on eggs is not governed or regulated to the extent other products are.
Activists Say Language on Labels for Food Products is Vague In particular, certain phrases used on labels for food products have caught the ire of animal rights advocates. A post on the ALDF's website says terms like "cage-free," "free-range" and "pastured" often appear on egg carton labels but do not have set definitions, allowing businesses to affix consumer-attractive labels on products that don't fully represent the true quality of animal care conditions.
The lawsuit seeks to set out such definitions and strictly hold producers accountable for the labels placed on eggs.
Request your FREE instant quote today.