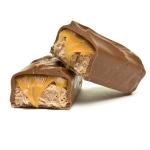 Study Shows Green Custom Food Labels Perceived as Healthier 
A researcher from Cornell University recently conducted a study that showed that candy bars with green custom food labels are perceived as being healthier than ones with red labels, regardless of the nutritional content. The research, conducted by assistant professor of communication and director of Cornell's Social Cognition and Communication Lab, Jonathon Schuldt, suggests that that the same amount of attention put into calorie content might be needed when choosing the design and color of calorie labels.
Schuldt told the Cornell Chronicle that although more calorie labels are now placed on the front of the packaging for sugary snacks, he believes there is not yet enough oversight regarding labels, especially since the calorie label's color choice can potentially mask unhealthy foods.
Michelle Obama Pushes for Clearer Food Product Labels In her fight against childhood obesity, first lady Michelle Obama also recently encouraged the food industry to use better, more informative food product labels, The Associated Press reported this week. The first lady applauded companies that provide front-of-package nutrition labels that are easy for even the most harried consumer to spot and understand without misinterpretation.
"I didn't exactly have time to peruse the aisles, thoughtfully reading labels, and I know my experiences are not unique," she told the AP.
Request your FREE instant quote today.