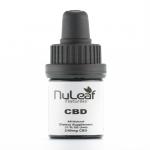 There's growth. And then there's warp-speed acceleration. Denver-based NuLeaf Naturals, a pioneering hemp company specializing in pure CBD oil manufacture and sale, definitely falls into the latter category. Founded in 2014 by a group of health-conscious plant medicine aficionados, NuLeaf is the Inc. 5000 11th fastest-growing private American company, top Colorado company, and third largest consumer product company seeing 11,949% growth in three years.
A commitment to customer service, teamwork, education and developing top-quality full-spectrum CBD oil are the company's pillars of success. Notes Ian Kelly, VP of Operations, in a news release about the Inc. 5000 award: "… we have remained deeply committed to creating a superior product and providing exceptional customer service…We are honored to receive such a prestigious ranking from Inc., and we congratulate and thank our exceptional team members and partners, whose tireless commitment to quality has made this growth possible."
Notes spokesperson Melissa Popp, NuLeaf Naturals full-spectrum CBD oil is extracted from 100% organic hemp plants grown on licensed farms in Colorado. NuLeaf Naturals is distributed to approximately 1,600 US retail locations. She points out, "We're committed to providing consumers safe, consistent, and effective CBD products that are independently verified by third-party labs. By getting a full spectrum of cannabinoids, terpenes, and flavonoids from the hemp plant, your body gets the maximum efficacy from each dose."
Melissa doubles down on the importance of consumer education in the CBD oil realm: "NuLeaf Naturals' presence started on the web. By educating consumers on full-spectrum CBD oil and its benefits, we began to grow and emerge as an industry leader."
She adds: "Our focus on creating a quality product driven by a team that supports plant medicine has been key to building the trust and support of our customer base. By leveraging our website and social media, we've reached audiences far and wide across the globe."
Relationship with Lightning Labels, the CBD brand partner and digital printing specialist Melissa comments that Lightning Labels has been a "true partner," noting: "Our customers see the NuLeaf Naturals labels in their hands, and they know they're getting a quality product they can trust. Lightning Labels has been a true partner, working with us to enhance our labels as we evolve as a brand. As we're in the process of a brand refresh, they will be integral in getting our new labels off the ground."
Request your FREE instant quote today.