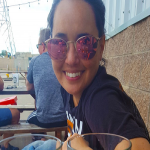 Shanna specializes in prepress, painting and pups. Lightning Labels' Prepress Lead fills her personal time painting, communing with her dog and exploring. Needless to say, her plate is full most of the time.
At the beginning of her career in graphic design and prepress around the turn of the century, Shanna's preoccupation was with plates—the kind that goes on a press. She holds a graphic design degree and started working at an Oklahoma flexographic printing company in 2002. She joined Lightning Labels in 2018 as a Prepress Technician, following a move two years earlier with her husband to Denver from Tulsa.
As far as leisure time, Shanna notes: "I like to paint animals. Usually, they are anthropomorphized, like army ants wearing parachutes and jumping out of a plane, or sea turtles with scissors stuck on their backs so they can cut themselves out of fishing nets. My favorite painting that I held on to is of my old dog, Puppy. She's smoking a cigarette. I used to smoke, so it's two things I really miss." She also enjoys playing guitar, "mostly folk ballads."
Also near and dear are family and friends in Oklahoma, and well as her current dog, Daisy. "I try to make a trip back a couple of times a year. But, my dog lives here in Aurora, so I'm always ready to get back home."
She elaborates on adventures near home and away: "I love to walk around outside, with Daisy and my husband. We spend a lot of time at Cherry Creek State Park, which is within walking distance from where we live. Last summer, we went on a road trip, and it was so much fun just driving and not having a set plan. We ended up visiting four national parks and seeing some really cool stuff. We went to Crested Butte to see the wildflowers, as well as Black Canyon of the Gunnison and Mesa Verde National Parks in Colorado. We also visited Utah to see Canyonlands and Arches National Parks."
In keeping with devotion to and love of, animals, Shanna used to volunteer with such organizations as Mercy for Animals, and her the local Humane Society. To this day, she contributes to Greenpeace every month. She points out, "I stand by their values regarding the environment and appreciate that what I contribute goes towards their cause, rather than advertising."
Just as Shanna's personal life is full and fulfilling, so is work. Shanna enjoys seeing new products come out with unique designs, then seeing the finished labels. Camaraderie also ranks high on her list: "I really enjoy working with everyone at Lightning Labels. It's also a perfectly sized company, where I don't feel either lost in the mix, or in a fishbowl."
Shanna also appreciates the progressive nature of the company, pointing out: "The workflow system in place at Lightning Labels is very sophisticated and we utilize it nearly to its full extent. We are always looking to improve and modify the system for our needs. Having used this same software at my previous jobs, I was impressed at seeing it used to the great degree it is here. As far as our capabilities, we have so much potential, with new die-cutting and printing technology becoming available."
Request your FREE instant quote today.