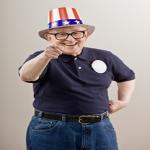 Voters Ask for Custom Stickers in NYC
New York City is one of the only places in the U.S. where voters do not receive an "I Voted!" sticker, but a new initiative promises to start handing out post-voting custom stickers. According to The New York Times, city residents are unable to receive the traditional "I Voted!" sticker because the local Board of Elections does not distribute them at the polls. With the sticker being a mark of pride for many American voters, some NYC citizens came forward after the last election asking for the sticker.
To counteract this, the city is instituting a sticker campaign among the five boroughs to create custom post-voting stickers.
Yet, NYC voters are not alone. In Washington state, residents of Pierce County do not receive the "I Voted!" stickers due to local budget cuts. According to the Washington-based News Tribune, the stickers cost approximately $20,000 for each election in the county. However, The New York Times reported the city's campaign finance board will hand out custom post-voting marks to make up for the lack of the traditional stickers.
City Prepares New Post-Voting Round Stickers According to The New York Times, the campaign finance board hopes New Yorkers will submit designs for the new "NYC Votes" round stickers so the city can distribute them by the next election.
Request your FREE instant quote today.