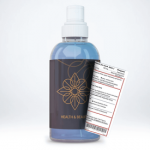 Health supplements and muscle-building powders are in high demand among fitness-conscious consumers. When your company is redesigning the packaging for a protein powder product or introducing a new item to the market, you need to think about the ideal
custom labels
to catch customers' eyes. The finalized design must combine a compelling visual look with comprehensive ingredient listings, matching shelf appeal with regulatory compliance.
The best way to meet the many requirements facing your protein powder bottle labels may involve staking out some extra space through extended content labels. These fold or peel open to provide additional information. You can gain more surface area than your nutraceutical bottles really possess by using this style of packaging.
The Advantages of Extended Content Labels
A "peel and reveal" style of extended content label could be the perfect solution for a nutraceutical brand that needs to combine comprehensive ingredient listings with impactful design. The front of the bottle can be devoted to your company's logo and graphics, with the extra information revealed by peeling the label back.
People who look under the top flap of the extended content label can find information including supplement facts, detailed ingredients and even information about your company's story and mission. The front of the label will therefore be free to present a consistent look and color scheme that connects all the many supplements available to your customers.
Whether your brand is an established company staking out a place in the fitness supplement space or a small organization just getting its start, you should make a point of standing out from competitors, using bold graphics to make your protein powders stand out among the many competitors.
The Value of Working with Lightning Labels
Your choice of a partner for protein powder labels can determine the quality of the resulting packaging. Lightning Labels doesn't just offer extended content options, but also a variety of label materials and finishes that can help you give your products a distinctive look and feel. From shiny finishes to tactile matte versions, you can create a combination designed to make potential buyers stop and consider your protein powders.
Winning over new customers is an important part of establishing a loyal audience for your nutraceutical supplements. Lightning Labels, with its many options, quick turnaround times and helpful customer service, can be your ideal partner in crafting packaging that will appeal to these first-time buyers. Your protein powders deserve labels that show off the items' quality while also complying with all applicable regulations.
Request your FREE instant quote today.