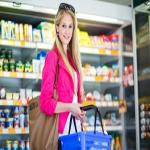 Focus on Health Information Label Printing This March
[caption id="attachment_8319" align="alignleft" width="300"] Use health information label printing to promote nutritious choices.[/caption]
Food and nutraceutical brands can take advantage of National Nutrition Month to utilize health information label printing to provide consumers with insight about healthy lifestyle choices; for instance, helping shoppers interpret nutrition labels. Initiated by the Academy of Nutrition and Dietetics back in 1973, the month-long event is intended to educate consumers on healthy food choices. For brands that make food, supplement or nutraceutical products, March is the ideal time to promote items than can be integrated for a more nutritious diet. Eating balanced meals doesn't have to be a chore; with the wide variety of products on the market, it can be fun. Product labels are a great place to remind shoppers that healthy foods can taste great, too.
Use Health Information Stickers to Promote Nutritional Ingredients
Brands can use health information stickers to call attention to healthy diet choices and drive engagement with products. During March, companies can work on their own educational campaigns that are in line with those of the Academy of Nutrition and Dietetics. Provide information about what goes into a balanced diet using visuals that are easy to understand. Turning an image of a plate into a pie chart that breaks a meal down into fruits, vegetables, grains and proteins can provide a useful guideline for shoppers who are trying to learn better eating habits. Companies that create supplements can benefit from using sticker labels to highlight the most beneficial components of products. Do you make a beverage that has a high volume of vitamin B12? Include a message about the role this vitamin plays in overall wellness. Inform shoppers how they can make the most of supplement use.
Bring Awareness to Food Product Nutrition Information
Throughout the month, brands can draw attention to food product nutrition information on packaging. Another consideration during this month is the impending changes to nutrition labels, recently announced by the U.S. Food and Drug Administration. Before the new guidelines are made official, companies can demonstrate they are ahead of the curve by providing information about changes to come on food and nutraceutical labels. The new rules will likely downplay the importance of fat content and draw greater attention to the number of calories and the serving size, National Public Radio reported. The new elements of the label will be large and bold so they are more visible. Help your consumers adjust to the changes before they are implemented. Gain the trust of shoppers and they will keep returning to your products.
Request your FREE instant quote today.