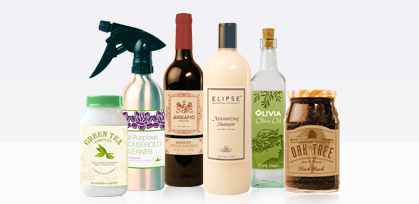 Oscar Wilde's famous play, "The Importance of Being Earnest," was labeled a farcical comedy. When it comes to information on custom labels, the importance of being earnest is anything but farcical.
Label disclosures are all the rage. On one end of the continuum are manufacturers who want to proclaim their purity and high quality, with such labels as "organic" and "natural." Then, there are those energy products where full disclosure—or lack thereof—is proving controversial.
Recently, a TV episode of  "The Good Wife" featured a mock trial about an energy beverage company accused of hiding from plain view that their product contained high amounts of caffeine and guarana. Because of product classification as a supplement, they weren't subject to the more stringent labeling disclosures required of nutritional products.
In the case of Monster, life imitates art, in reverse. According to CBS News, "Monster Beverage Corp. will change labeling on its cans so that its energy drinks will no longer be considered dietary supplements. This move requires different labeling rules under Food and Drug Administration guidelines, including the notable addition of the drink's caffeine content…Monster's CEO told the industry tracker Beverage Digest that the cans will now list 'Nutrition Facts' rather than 'Supplement Facts.'"
This is good policy, especially amid heightening reports of adverse health reactions to some energy drinks and supplements. But, it also highlights a key tenet of good business: Tell the truth, the whole truth, and nothing but the truth.
Two Simple Guidelines for Product Labels
Here are two simple, common-sense and incredibly important guidelines for manufacturers deciding on information for product labels:
If you can't prove it, don't say it;
Don't hide behind regulatory requirements to limit disclosure.
Regarding the first guideline, claims of "organic," "natural," and "green" products sometimes are at odds with the truth—as are heart-healthy and other "body betterment" statements. In today's see-all, tell-all social media-driven world, the truth will come out somehow, sooner or later. It's better to err on the side of listing factually documentable information than making claims that later may be shot down—damaging a company's reputation and product(s) in the process.
Regarding the second guideline, the same pitfalls await companies that don't disclose all important information on their labels—regardless of FDA or other regulatory requirements. For instance, a nutraceutical product manufacturer claiming "supplement" status to avoid more stringent FDA-mandated disclosures, may soon find itself in the crosshairs of the court of public opinion—especially when emergency departments start reporting admissions tied to energy supplement consumption.
While some companies zealously protect their "proprietary mixtures," claiming the legal right to protect their property or patent, this policy may fare poorly in the marketplace. Increasingly, consumers are reading labels closely and demanding to know exactly what they're getting. This is particularly true in the case of allergy-related discussions around everything from processing in factories where peanuts are present to gluten. In the long run, consumers will remain loyal to those companies offering full, truthful disclosure—and run from those that don't.
Request your FREE instant quote today.