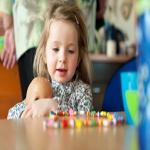 Warning Labels Help Parents Keep Children Safe 'Tis the season to be jolly, but if toy and game product manufacturers do not properly label their goods, the holiday season can turn sour quickly if injuries occur. While toys and games are designed for children, that does not always mean they are safe - they may feature small parts that can pose as choking hazards or otherwise jeopardize users. This is why it is crucial these items are labeled properly so parents can take the right course of action when supervising children.
Many retailers are even taking a stand and not stocking toys and games that do not feature comprehensive safety warnings. Fox 6 Now recently reported that brands such as Cedarburg Toy Company want shoppers to be able to rest assured knowing the toys and games they buy do not come with any hidden hazards.
"It's a place to come where they could walk in and not have to worry about checking the label," says Natasha Loos, one of the store's owners. "We are putting our kids in a guinea pig situation where we just don't know enough about it, and better to air on the side of safety versus it's a cheap item and we can get it at a good price."
Transparency is King While product manufacturers may not want to make their goods seem like massive hazards, it is better to err on the side of caution in these situations. There is no PR situation worse than a news story about a brand's items injuring a child, so companies should try to be as transparent as possible when it comes to addressing potential safety hazards that could result in sickness or harm.