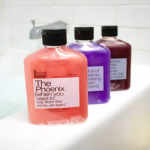 Hint: It kinda, sorta ties to what the company makes. Products include aromatherapeutic bath and body products. But, it goes way beyond soap to body washes, lotions, exfoliators, dry oil perfumes and solid fragrances, bath/shower gels, shampoos, lip care, and body souffles (light body moisturizers). Candles and bath bombs are on tap for later this year.
In the words of co-founder and president Linda Cabot, "Not Soap, Radio is a quirky/luxe botanically-based, eco-conscious wellness brand with personality. The collection is designed to assuage modern frustrations such as multitasking, stress, energy level, confidence, love and the general craziness of everyday life in a smart, laugh-through-it-way meant to empower, relax and revive."
OK, here's the story of the name "Not Soap, Radio." According to their website, it "comes from the punch line of a nonsense joke my friends and I used to tell each other when we were younger. The joke went like this:
There are two polar bears taking a bath. One polar bear says to the other, 'Please pass the soap.' The other bear turns to him and says, 'Not Soap, Radio.' And everyone in on the joke laughs hysterically. It was our secret language. We knew things."
Clearly, it was an inside secret. The company is anything but secret, expanding far and wide and gaining fame in magazines, online publications, and social media channels from Vogue to the New York Times, YouTube to TikTok. Collections have been launched in Tru by Hilton Hotels and Club Med, worldwide.
Not Soap, Radio's beginning, according to Laura, "was slightly serendipitous. I was living in New York City and working as a fashion writer; I had a friend at L'Oreal at the time. One day, he handed me a B to B magazine that had landed on his desk. He remembered that I'd had a conversation with him about maybe possibly starting a small bubble bath collection – a conversation that I'd forgotten. I kept the magazine on my desk for weeks. I was about to throw it away and I opened it to a page advertising the Health and Beauty Expo (a huge trade show that all cosmetic labs, manufacturers, etc…attend) that was happening in NYC the next day. I went to the expo and found a turnkey lab in Canada and decided to start the brand, pretty much on the spot."
She adds that her background as a writer led to text-rich product descriptions. She notes, "Each has a little vignette or explanation on the back label that tells a story. We don't just sell lavender bubble bath, ours is 'To sleep full of sweet dreams (without waking in a mad panic at 3 am).'"
Relationship with Lightning Labels, the lightning-fast bath and body digital printing specialist
Laura emphasizes that because of product vibrancy, "Some of our labels are very minimal. The quality of the label has to be impeccable. Lightning Labels is the best. The Labels look seamless on our bottles. There were times over the last year or so when we've run out of labels unexpectedly. Lightning Labels is the one vendor we've worked with that has been 100% consistent, reliable and fast in getting us what we needed immediately without extra cost. Lightning Labels is our only supplier that has been consistent through the pandemic."
Request your FREE instant quote today.