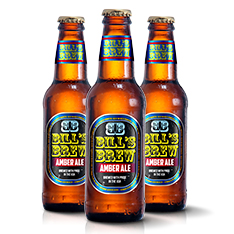 Product Description
Personalized beer bottle labels from Lightning Labels can bring new life to any home-brewed beer. These labels are perfect for showing off a beer you've worked hard on, whether you're selling to small vendors or just want to spice up bottles to hand out to family and friends. These labels can be placed on all sizes and shapes of bottles, so when you decide to switch up the type of bottle you use, you'll still be able to use the labels you ordered. When you work with Lightning Labels, you'll be able to use your logo, slogan or favorite colors - it's all up to you.
When ordering custom beverage labels from Lightning Labels, you can be sure they'll be made just the way you want them. Choose from a variety of shapes, sizes and colors, all at an affordable price.
Customized Beer Bottle Labels from Lightning Labels are a Great Addition to Any Bottle
That's just the start of all the great benefits you'll get from Lightning Labels. You'll also get:
Free ground shipping in the U.S. and Canada*
24-48 hour turnaround**
No set-up fees, no plate fees, and no added fees for unlimited color!
Free printed press proofs*** for all custom labels and sticker orders, in addition to PDF files
100% satisfaction guaranteed!
Customized Beer Bottle Labels from Lightning Labels are the perfect way to bring character to any bottle of beer. Some of the best domestic and imported beers have iconic labels. Don't get left behind - use customized beer bottle labels from Lighting Labels and brand your beer with ease.
When you work with Lighting Labels, you'll work with experts who have years of printing experience. If you have a detailed design or goal in mind but aren't sure how to make it a reality, the team at Lightning Labels is there to help.
Impress Friends and Family with Homemade Beer Bottle Labels from Lighting Labels
If you have a particular brew you can't wait to show off to your family and friends, then you've come to the right place - order homemade beer bottle labels from Lighting Labels and get set to impress. You can choose from a variety of materials and laminates including:
White vinyl
Biostone-Biodegradable
High Gloss
Matte
And more!
Work with Lightning Labels and watch as your beer bottle brand comes to life!
Free Stickers and Labels Sample Pack
Lightning Labels offers full-color digital printing. Check out our custom label samples and sticker proofs for quality assurance and design ideas.
Click here to request your free sample
Lightning Labels has been servicing the printing needs of our customers for more than 10 years. We are extremely proud of our BBB rating (A+) and guarantee your experience with us will be a positive one.
Call us at 888-907-3004 today to place your custom beer bottle label order and watch sales skyrocket!
*on regular priced orders **following proof approval ***shipping charges apply